Podcast


The Drug of Art has a monthly podcast hosted by Alison Lapper.



Art and creativity play a valuable role in building self-esteem, fulfilment and wellbeing. Through connecting with one another over art, we are able to delve into an open dialogue about the benefits creativity has on our mental health. The Drug of Art Podcast invites artists, in conversation with Alison Lapper, to discuss how art has benefited their life, and how creativity has been a tool for their self exploration, understanding and/or healing for their mental self. Through emphasising the impact art can have we have an aim to encourage young people to find their medium of expression!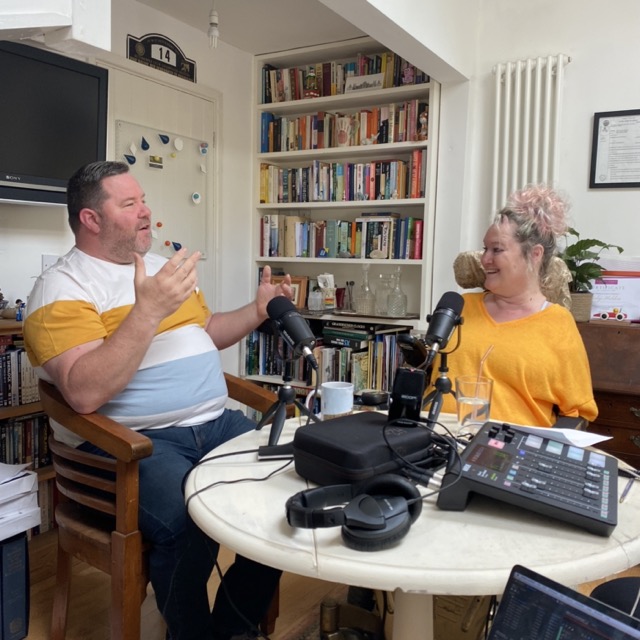 You can listen to the podcast below, or through Spotify.


Episode 7 invites the Kirkwood Brothers from Glasgow to discuss how they collaboratively work together as brothers. Jonny and Jordan create art through conversation, in an effort to break down stereotypes of neuro-diversity and mental health with humour as the central vehicle to their drawings. Tune in to discover how drawing has become a tool for the Kirkwood Brothers to express and process what they have been struggling with to each other.




In Episode 6, Alison chats with artist and founder of the Outsider Gallery, Ben Wakeling. Ben discusses his extremely emotive painting process and how it has been a form of escape. Ben shares this ability with others who need it the most within the NHS.

TW: Please note that this episode discusses vulnerable topics such as suicide, self harm and depression.



In episode 5, Alison invites soft sculpture and textiles artist Hattie Porter to share their story. Hattie's work explores personal experiences of health and illness as a non-binary autistic person. They discuss their experience of being sectioned and how they use textiles to communicate these feelings.



In episode 4, Alison is joined by Stevie Georgina - a textiles artist documenting their well-being journey on YouTube. Hospitalised in 2017 after experiencing psychosis, Stevie experiments with arts & crafts, exploring how they can help make her struggles more manageable. She talks to Alison about how crochet helped get her back on her feet and seeing the light in every situation.






In episode 3, Alison talks to photographer and director, Rankin. Rankins portfolio ranges from fashion, portraiture and documentary. In conversation with Alison, Rankin discusses grief and how his creative process has been a tool for connecting with others which has hugely benefited his wellbeing. Through sharing and relating on personal stories, helping others and learning from each other, we feel seen and heard.





In episode 2, Alison is joined by artist

Dawn Blake

. Dawn uses a wide multi-displinary approach incorporating domestic objects into performance, film and installation. She aims too subvert gender norms in regard to power, control, sexuality and identity. They discuss how art gave Dawn a voice to express her trauma as a domestic abuse survivior.

In episode 1, Alison is joined by artist, podcast host and ex-prisoner,

Gary Mansfield.

They discuss Gary's experience with mental health whilst serving 14 years in prison and how art helped him build a new life.